Land Rover and Jaguar Certified collision at Relentless Collision Raleigh 2620 Westinghouse Blvd, Raleigh NC 27604. Relentless Collision proud to announce their selection as an official Jaguar and Land Rover Certified Collision Center.
Range Rover, Land Rover and Jaguar Aluminum Repair Network ensures elite automotive owners can access structural and aluminum repair centers when they need auto body services at Relentless Collision. Complete collision services from PDR and bumper work to serious structural repair. Proper auto body and paint repair requires complex training for welding, procedures and electronics knowledge.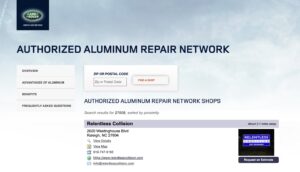 Range Rover remains the most popular vehicle we see for body shop and collision services in the Land Rover lineup. The collision training is some of the most complete and rigorous in the industry including EV procedures. As of July 2023 there are only 2 approved locations within the greater Triangle North Carolina market. The Relentless Collision Raleigh Land Rover Certified location becomes only the 6th Jaguar and Land Rover approved auto body shop in North Carolina. Over 6 months of inspections, body and paint training and equipment acquisition was required to meet standards.
You can find directions to the Raleigh, NC Land Rover and Jaguar Certified Collision Center here. Serving Raleigh, Durham, Cary and Chapel Hill for your modern vehicle. Call 919-747-9165 for aluminum auto body services.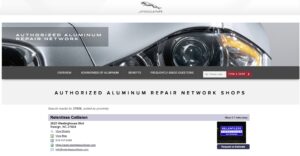 You can confirm our Jaguar Aluminum Auto Body Network inclusion on their site for more information. Jaguar and Land Rover share ownership and technical requirements for inclusion as an Aluminum Network body repair facility. All Jaguar Electric Vehicles can be properly repaired for paint and body services.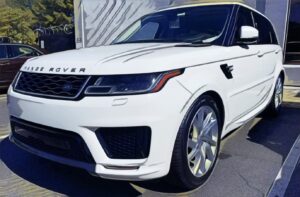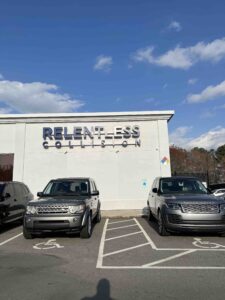 Land Rover & Range Rover & Jaguar
auto body at Relentless Collision Raleigh. Gas and electric EV body